The affordable electric estate
This is the most affordable electric estate car available in the UK. By miles. It's has a long range, comes with an impressive 7yr/80,000 mile warranty, and is suitably spacious inside. And yet it costs the same as a Fiat 500, which is considerably smaller (and offers 50 miles less range).
The MG5 is quite rightly labelled by MG as "The practical, affordable, and efficient electric estate car." In terms of entry price, and monthly price options, this is an accessible family electric car, with ridiculously low running costs.
The MG5 is better than the Nissan Leaf in so far as it's cheaper and has a longer range. Indeed its closest competition is arguably the MG ZS EV, which is equally affordable, and perhaps better looking (in small SUV body style). While the VW ID.3 is a more up-market alternative, but again in this case the MG5 is cheaper and offers more space.
MG5 goes the distance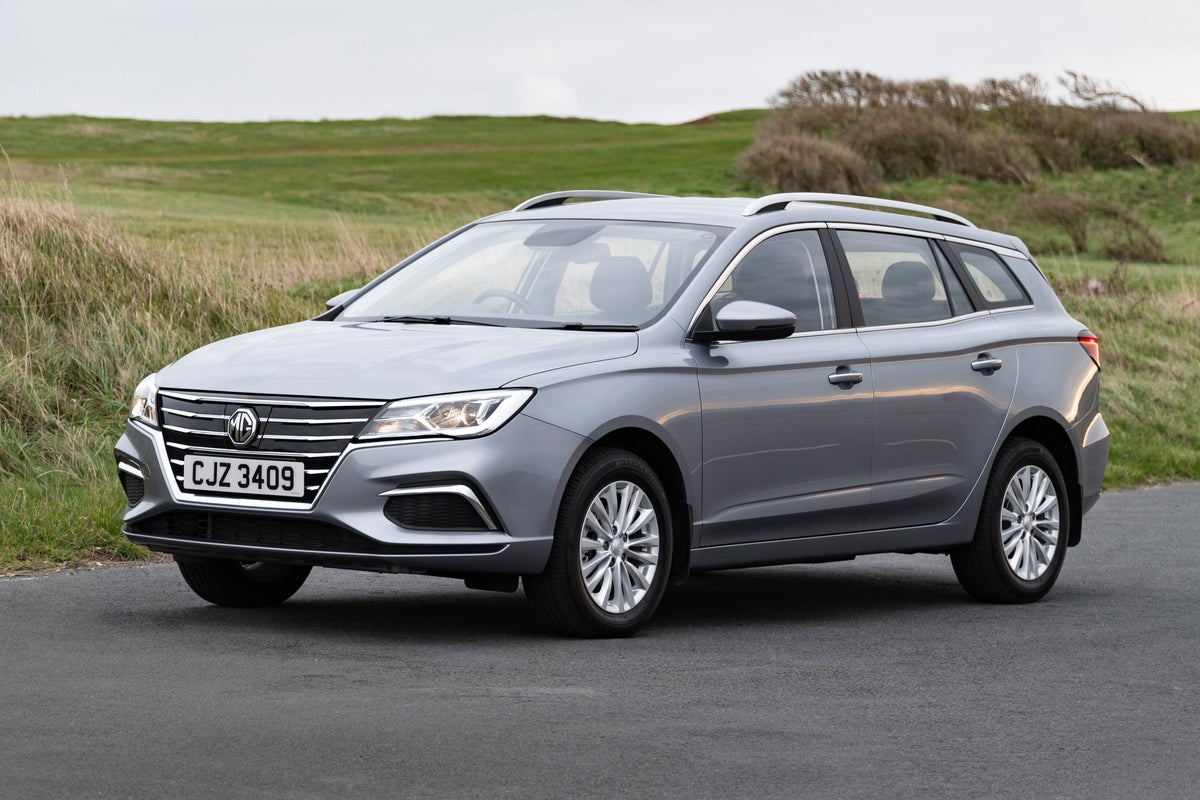 When the MG5 2022 was recently released, it briefly came with a choice of two battery sizes: 52kWh or 61kWh.
In the previous MG5 2021 model only the smaller battery was offered, which gave the previous MG5 a lower range – a more than respectable WLTP figure of 214 miles.
Now MG are only offering the MG5 2022 in the Long Range variant. This is certainly no bad thing, as we would certainly recommend this 61kWh (57.7kWh usable) / 250-mile WLTP version. However, as with all electric cars, bear in mind that the actual range you'll achieve will be lower, and more like 210 miles as real-world range, in mixed driving conditions.
The MG5 is also easy to drive and offers pacey electric acceleration. Using an electric motor developing 154bhp and 260Nm of torque, it lets this electric estate car hit 60mph in as little as 7.3 seconds, which is very nippy for an electric car that screams sensible.
It doesn't take too long to charge either, as the MG5 comes with 50kW DC rapid charging capability (the type of chargers you'll find at motorway service stations), which allows for 80% charge in 61 minutes, and therefore a top-up of about 100 miles should take about 30 minutes. While at home using a typical 7kW wallbox, a full charge will take about 9.5 hours, and cost between £7 to £9, which is a lot cheaper than petrol.
A comfortable ride
The MG5 doesn't aim to be sporty, it aims to be a practical electric car. But it has a punchy electric motor with instant torque that allows you to zip off at the lights or overtake with real ease.
The MG5 is also equipped with a very good regenerative braking system, which allows you to switch between levels, with the most extreme mode allowing 'one-pedal' driving.
Along with a very good range, the MG5 is comfortable and easy to drive. Helped by small alloy wheels with thick tyre walls. And again, for its price, this level of ride comfort is very good, and makes the MG5 an easy car to switch to, and live with.
Spacious interior
The MG5 is all about practicality, with lots of space in the back seats for adults to sit comfortably ,and a 464-litre boot that's far larger than any other EV available at this price.
The cabin doesn't feel particularly futuristic or premium, but clear dials and a rotary 'gear' selector help to give the MG5 some up-market feel. It's not as flashy as the Hyundai Ioniq 5, but that's much more expensive.
However, the MG5 also comes with lots of kit, which we outline briefly below, based on trim options available.
Keeping costs down
MG keeps its costs down by not offering a vast number of trim levels. There are just two for the MG5, but each comes with plenty of kit.
Excite – from £27,945 (including plug-in car grant)
The entry-level version comes with a good spec: an eight-inch touchscreen with satellite navigation, Android Auto and Apple CarPlay, keyless entry, a seven-inch digital driver display, and a reversing camera. While standard safety features include autonomous emergency braking, lane keep assist, high beam assist, and adaptive cruise control.
Exclusive – from £30,445 (including plug-in car grant)
Step up to the Exclusive and it brings high-end features such as heated front seats, electric driver's seat, leather-style upholstery, climate control, silver roof rails, automatic wipers, and an auto-dimming rear-view mirror.
Both options are affordable and very good, but if you want value, then the MG5 Excite offers plenty, for a very low price.
The MG5 makes electric accessible
It's not hard to see why MG is currently one of the quickest growing car brands.
At a time when high prices are preventing many from making the switch to an EV, the MG5 offers an affordable price with lots of space, which makes it a credible option for those who otherwise might be priced out of an electric car.
It might not be the most exciting of EVs on sale today, but it's a very appealing no-nonsense electric car that is already proving to be very popular. In terms of value for money, we don't think there's another electric car that comes close, apart from its SUV sibling, the MG ZS EV.
And apart from the rather expensive Porsche Taycan Cross Turismo (which costs about £70k more), the MG5 is the only other electric estate on sale in the UK. So if you want an electric estate that's affordable and practical, then the MG5 is your answer!